! -------- INICIO TITULO ------------------->
---
Suscríbase al
Newsletter de FAEC
Clima Feroz
Por Eduardo Ferreyra
---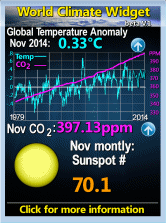 Manchas Solares
Condiciones en el Sol
---
Blogs: escépticos del clima en Inglés
William M. Briggs
Climate Audit
Climate Change Facts
Climate Change Fraud
Climate Police

Climate Resistance
Climate Scam
Climate Science
CO2 Science
CO2 Sceptics
Friends of Science
Global Climate Scam
Global Warming Heretic
Global Warming Hoax
Global Warming Skeptic
GlobalWarming.org
Greenie Watch
Bruce Hall
Warwick Hughes
Lucia Liljegren
Jennifer Marohasy
Warren Meyer
Maurizio Morabito
Luboš Motl
Tom Nelson
Newsbusters climate
Niche Modeling
Planet Gore
Really Real Climate
Roger Pielke Sr.
Fred Singer
David Stockwell
Philip Stott
Anthony Watts
World Climate Report
Videos de Interés
Penn and Teller
-Genial!
El Gran Timo del Calentamiento Global
---
El Gran Timo...
en 8 partes breves
---
ARTICULOS
RECOMENDADOS

Estudios Solares de Theodor Landscheidt
---
Pierre Lutgen, miembro de FAEC,
distinguido por las Naciones Unidas Por Eduardo Ferreyra
Presidente de FAEC
Noviembre 22, 2010
El Dr. Pierre Lutgen, de Luxemburgo, se unió a FAEC hace varios años para aportar sus conocimientos sobre distintos aspectos que tratamos en nuestro sitio web. Así se hizo cargo de la sección en francés de este sitio, donde publicó importantes trabajos sobre su especialidad, el manejo de residuos, remediación de suelos, incineración y valorización térmica de la basura domiciliaria y, en especial, hizo pública a través de nuestro sitio de la actividad filantrópica de la ONG de Luxemburgo, IFBV, dedicada a paliar las condiciones de miseria y enfermedades endémicas en África, haciendo un particular énfasis en la lucha contra la malaria y la promoción del uso de la tisana hecha con la hierba Artemisia annua para curar a los infectados por el plasmodio de la malaria y lac leishmaniasis.

La ONG IFBV, de Luxemburgo, cuenta con el apoyo del Rotary Club de Luxemburgo y financia sus esfuerzos a través de las donaciones de personas sensibilizadas por las penurias que imponen la miseria y el atraso tecnológico. Por su parte, debido a nuestros escasos recursos, FAEC sólo ha podido contribuir con la difusión de sus programas y de los logros conseguidos. Pero, como nos cuenta el Dr. Lutgen en un email recibido esta mañana, "Eduardo, Es la prueba que lo que se escribe en internet, puede ser conocido y merecer una invitación como la de Camboya, Pierre"
Parece evidente, entonces, que lo que escribimos en este sitio es leído –y tenido en cuenta– por personas y organizaciones que no podíamos imaginar. Dice el mensaje del Dr. Lutgen:
From: Pierre Lutgen [mailto:lutgenp@gms.lu]
Sent: jeudi 18 novembre 2010 20:07
To: Eduardo Ferreyra; Ousmane Sarr; idvelez@udea.edu.co; naguirre@udea.edu.co; mabingui; 'rosine desiree chougouo kengne'; KAPTUE Lazare; 'Yannick Arlabosse-Titz'; 'Jean-Jacques Schul'
Subject: CambodgeQueridos amigos del Sur,

Aún no he comprendido bien ni digerido esto que me hace el honor de ser invitado a esta gran confe-rencia internacional de 3 días en Phnom Penh.

Sin duda el trabajo que nosotros hacemos juntos en la lucha contra las enfermedades tropicales y disentéricas comienzan a ser conocidas más allá de nuestras fronteras.

Yo he aceptado la invitación porque es una ocasión única de hablar frente de jefes de estado y otros altos funcionarios, con quienes tenemos la esperanza de trabajar en equipo.

Encontrarán anexo my "discurso de presentación". Les es permitido hacerme sugestiones para mejo-rarlo, sobre todo si me he olvidado de alguien o de algo.

Estoy seguro de que nuestros esfuerzos y nuestro compromiso no han sido vanos, contra viento y marea, contra funcionarios y detractores.

Seguimos en la brecha!Pierre
El borrador del discurso de presentación, antes de cualquier corrección, puede ser leído en:
El impacto de las actividades humanas en las enfermedades tropicales y la disentería
. Y la invitación de la organización
International Eco-Safety Cooperative Association
, que forma parte de las Naciones Unidas es la siguiente:
Estimado Dr. Pierre Lutgen,

El trabajo en el que usted está comprometido es un aspecto muy importante de Eco-Safety, por ello es que le invito a hacer un discurso de presentación de 10 minutos en nuestra conferencia en diciembre 1-3 basado en el trabajo que usted ha hecho, especialmente en la prevención de enfermedades tropicales y disentería, el impacto del cambio climático y las actividades humanas y la manera de enfrentar los problemas.

Durante el encuentro yo le invitaré a ocupar el cargo de Consultor Senior de International Eco-Safety Cooperative Organization.

Esperando verle en Phnom Penh, en Cambodia,

Mis más gratos saludos,Jang Mingjun
Director General de International Eco-Safety Cooperative Organization

Invitados VIP a participar en la 6a Asamblea General y WESA

H.E. Ban Ki-moon, Secretary General, United Nations

H.E. Hu Jintao, President and Secretary General of the Communist Party of China, the People's Republic of China

H.E. Nursultan Abishuly Nazarbayev, President, (Leader of Nur Otan Party), Republic of Kazakhstan

H.E. Benigno Aquino, President (Vice-Chairman of Liberal Party), the Republic of the Philippines

H.E. James Michel, President, Republic of Seychelles

H.E. Mohamed Nasheed, President, Republic of Maldives

H.E. Yoweri Museveni, President, the Republic of Uganda

H.E. Choummaly Sayasone, President and General Secretary of Lao People's Revolutionary Party, Lao People's Democratic Republic

H.E. Dissanayake Mudiyanselage Jayaratne, Prime Minister, Democratic Socialist Republic of Sri Lanka

H.E. Dato'Sri Mohamad Najib bin Tun Haji Abdul Razak, Prime Minister and President of United Malays National Organization (UMNO), Malaysia

H.E. Nong Duc Manh, General Secretary of communist Party of Vietnam, Socialist Republic of Vietnam

H.E. Mrs. Sonia Gandhi, President of the Indian National Congress

H.E. Mrs. Megawati Sukarnoputri, Former President of the Republic of Indonesia (Indonesian Democratic Party-StRuggle)

H.E. Madhav Kuma Nepal, Former Prime Minister of Federal Democratic Republic of Nepal (Communist Party of Nepal-Unified Marxist-Leninist)

H.E. Fidel V.Ramos, Former President of the Republic of the Philippines (Lakas-Kampi-CMD and Lifetime Honorary President of CDI)

H.E. Vicente Fox Quesada, Former President of Mexico and Co-President of the Centrist Democrat International (United Mexican States)

H.E. Romano Prodi, former Chairman of European Commission and Former Prime Minister of Italy

H.E. Mendsaikhan Enkhsaikhan, former Prime Minister of the Republic of Mongolia

H.E. Sergey Terechshenko, Former Prime Minister of Kazakhstan

H.E. Jose de Venecia, Founder & Co-Chairman of ICAPP

H.E. Kim Young-Sam, Former President of the Republic of Korea

H.E. Jejomar C.Binay, Vice President (President of the United Opposition-UNO, President of Partido Demokratiko Pilipino-Lakasng bayan (PDP-Laban), the Republic of the Philippines

H.E. Anna Tibaijuka, former Under-Secretary-General of the United Nations and Executive Director of UN-HABITAT

H.E. Anwarul K. Chowdhury, former Under-Secretary-General of the United Nations

H.E. Zhang Deguang, Former Secretary General of SCO, Secretary General of Euro-Asia Economic Forum

H.E. Wilfried Martens, Former Prime Minister of the Kingdom of Belgium and President of European People's Party

H.E. Maria Otero, U.S. Under Secretary of State

H.E. Rahul Gandhi, Member of Parliament and General Secretary of the Indian National Congress

H.E. Pier Ferdinando Casini, Co-President of the Christian Democratic International (with Vicente Fox)



---
Escriba su comentario o inicie un debate sobre el artículo:
comments powered by
---
Volver a la página Químicos y Pesticidas
Volver a la página Artículos
---
Vea el tiempo en Argentina
Usted es el visitante número
desde Noviembre 28, 2008
Vea aquí nuestras estadísticas
Vea desde donde nos leen

¿Desde qué países nos visitan?
¿Quiénes son los visitantes?


---